It's about a 5 min. read.
After successfully transitioning to a completely virtual workforce earlier this year, CMB was faced with a new challenge this Fall: how to virtually raise money for the Leukemia and Lymphoma Society's Annual Light the Night (LTN) Walk. Since 2008, LTN has been an integral part of the CMB community, with several in-person fundraising activities we look forward to year over year.
Now that we were all working from home, how could we maintain this important tradition and meet our fundraising goal?
Our LTN core team has always been made up of our Boston-based employees, but this year there were no barriers for a full-time remote employee to participate (me!). Since joining CMB two and a half years ago, I had been looking for an opportunity to become more actively involved in CMB's community, despite the 700+ mile distance between myself and the office. When I heard about our 2020 LTN goal, I jumped at the chance to not only help transition the events to a virtual format this year, but to also build a baseline for how we can continue to involve remote CMBers for years to come.
After several brainstorming sessions and input from other CMBers, we successfully re-imagined our usual slate of events:
BBQ: Initially, the fundraising team didn't think that it'd be possible to host our annual BBQ luncheon, which is perhaps CMB's favorite event of the year. But in the CMB spirit, we refused to miss out on award-winning BBQ from our very own CMB pit master, Jared. It was all hands-on deck, and thanks to everyone's feedback at CMB, we figured out a way to distribute Jared's BBQ safety and efficiently. Orders were placed, 83 pounds of brisket and 60 pounds of pork butt were smoked, deliveries were coordinated, and a team of volunteers (masked and gloved) met up in a parking lot to pick up and deliver orders throughout the Boston area. It's safe to say we made a lot of CMBers—and their families—happy and full.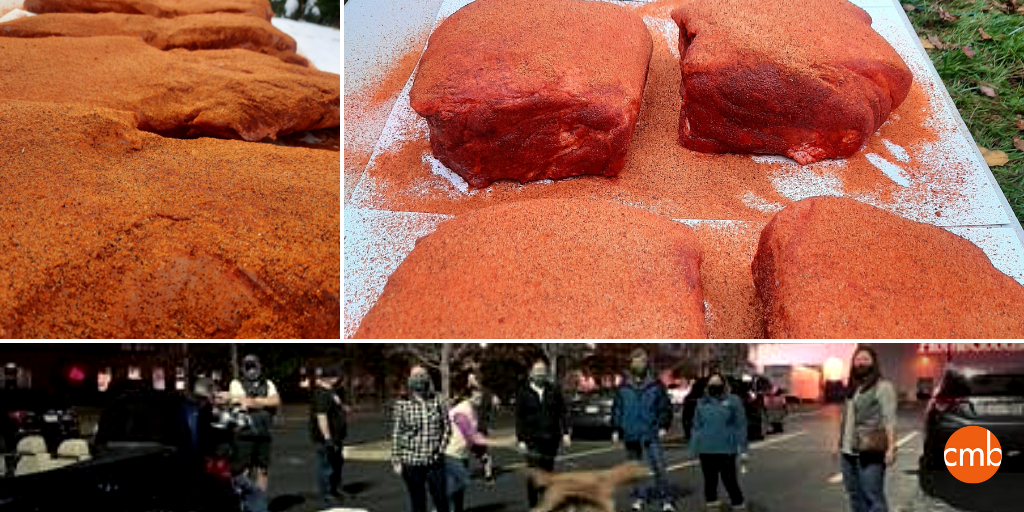 Auction: Another fan favorite: our annual live auction, with items donated by our coworkers. Fortunately, it was easier to conduct our first-ever online auction since nonprofits have been leveraging online auction fundraising tools for years. In total, 53 items were donated by our teammates– just a few examples are a Zoom Santa visit, chocolate babka, biscotti, homemade Ruth Bader Ginsburg dolls, knit hats and scarves, virtual bread baking class, and a sake gift basket. While we had fewer items up for grabs than in 2019, we still raised close to same amount! As a bonus, the online platform made for some intense (but friendly) bidding wars – and some of us may have spent our lunch breaks coming up with a plan of attacks for the items at the top of our list.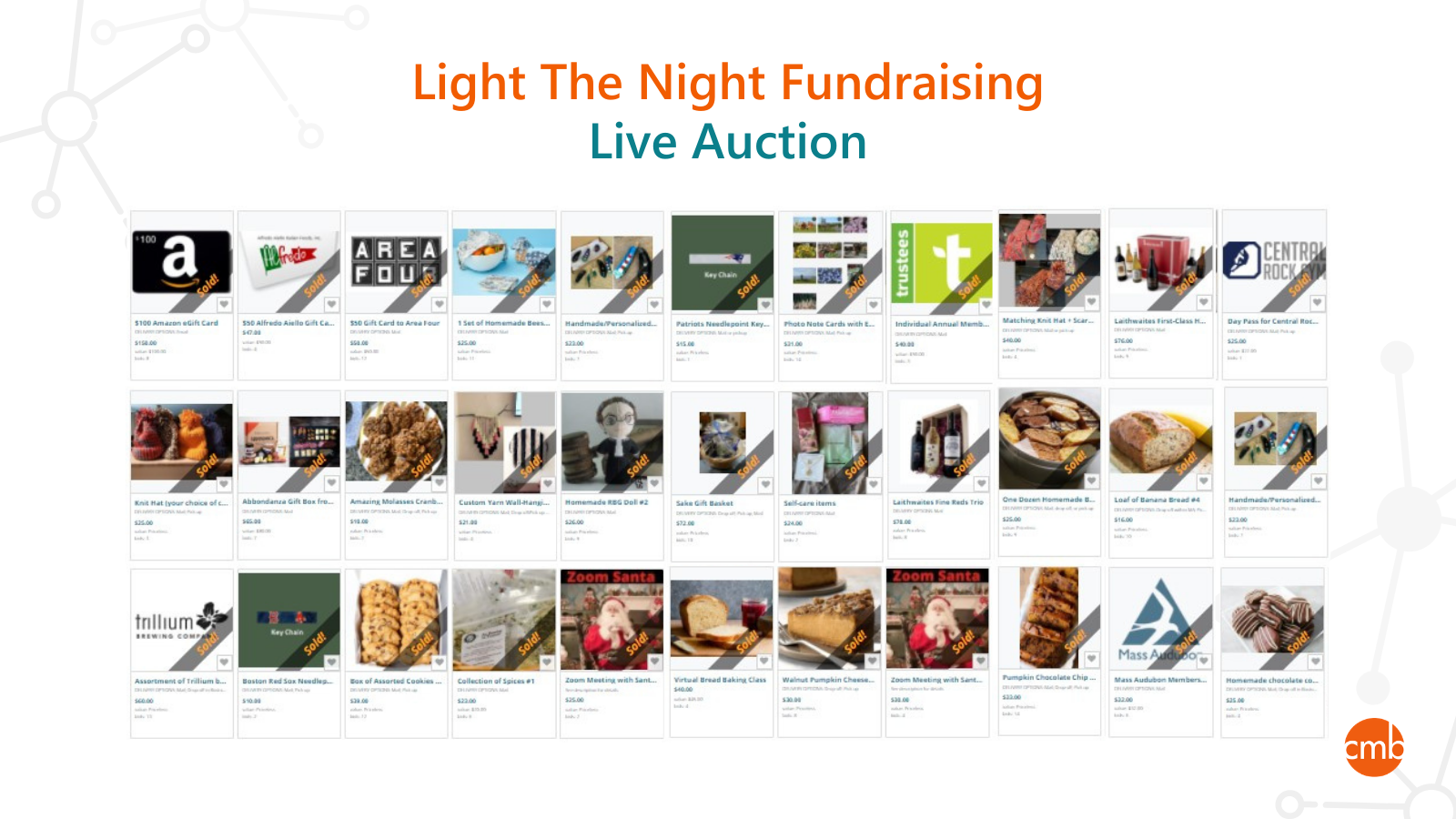 Social Commitee Activities: In past years, the CMB Social Committee has run a variety of in-person events, such as bake sales, soda & candy sales, board game tournaments, and paint nights. Despite obvious challenges, the team pivoted to virtual with ease, running a step challenge, an online board game tournament, fantasy football, and a "Two Truths and a Lie" game.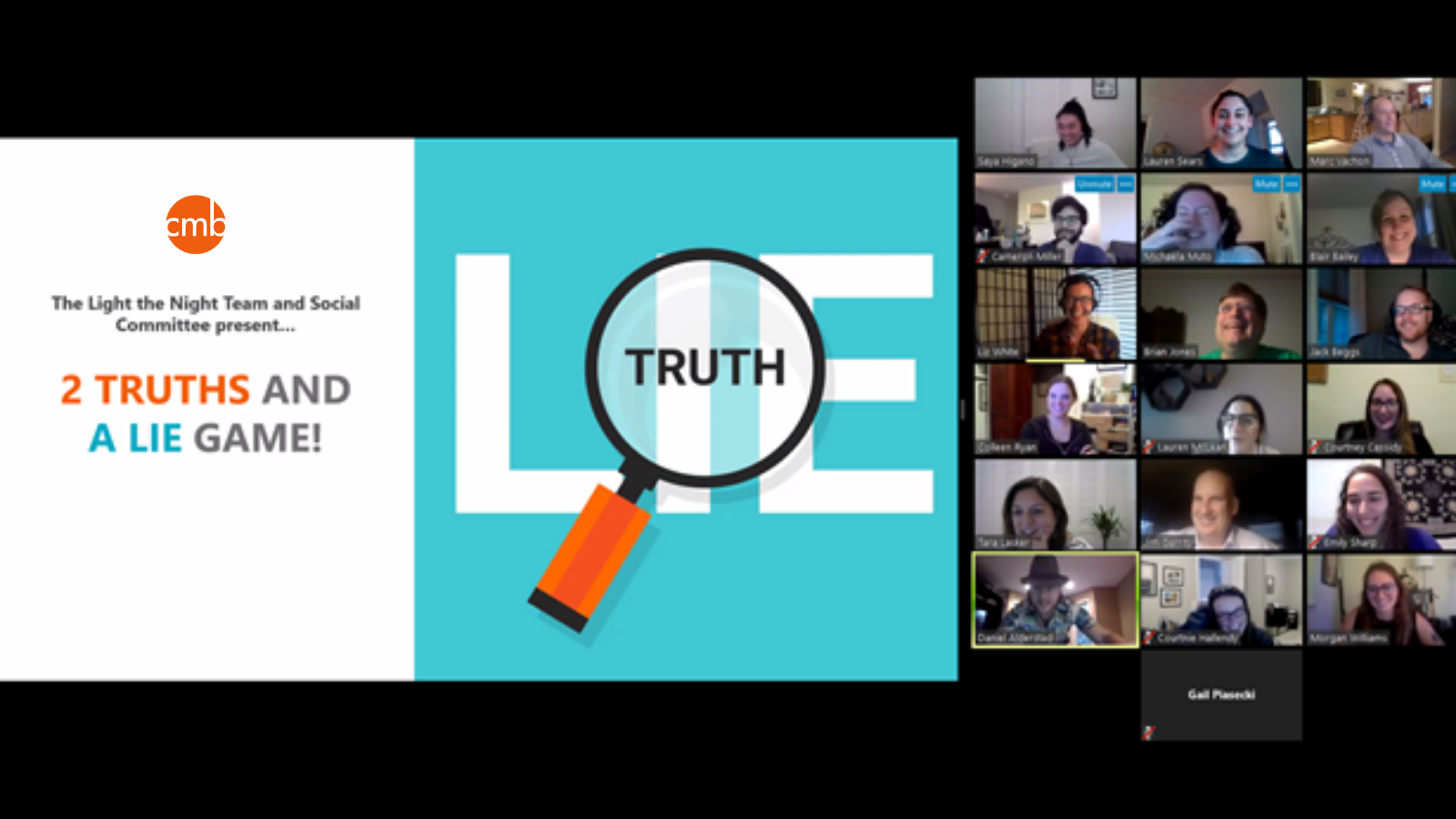 Never underestimate the power of community! While we will no doubt go back to some in-person events after we return to "normal" (whenever that is), we absolutely plan to include several virtual fundraising events in the future to ensure the growing number of full-time remote employees at our company are able to participate. Through this year's LTN fundraising efforts, we ignited our community and expanded the ways our workforce can engage with and participate in our culture more inclusively. I am proud to announce that despite the limitations this year, we exceeded our $10,000 goal, raising a total of $12,506 completely virtually!
Please join our support of LTN here.
---
Clairese Boser is a Sr. Project Manager at CMB, based out of her home in Southeast Michigan, and is a proud member of the 2020 Light the Night CMB team.
Other members who contributed to this year's success include: Ashley Harrington, Athena Rodriguez, Adrianne Economu, Jared Huizenga, Cameron Miller, Blair Bailey, Hannah Russell, Lauren Sears, Daniel Alderstad, Saya Higano, and more.