It's about a 1 min. read.
When I was diagnosed with cancer, one of my friends told me, "Cancer is a team sport and you are taking one for the team." It's true, cancer is a team sport.
My team of family and friends supported me through my battle with cancer.
So did the team of doctors, nurses, radiologists, surgeons and many others who worked relentlessly to provide care.
Even my colleagues became teammates when they pledged to raise money for Light the Night to benefit the Leukemia and Lymphoma Society the year I was diagnosed.
Ten years later, even though I'm cancer-free, I'm still a member of this team. We all are. Since 2008, CMB has continued to support Light the Night through various fundraising events, like trivia nights, cornhole tournaments, and other fun events.
Earlier this week, we hosted our biggest fundraising event, the annual CMB Light the Night BBQ + Silent Auction.
Each year, Jared, CMB's Field Services Director by day, award-winning pitmaster by night, assembles an incredible barbecue menu while CMBers can peruse and bid on silent auction items.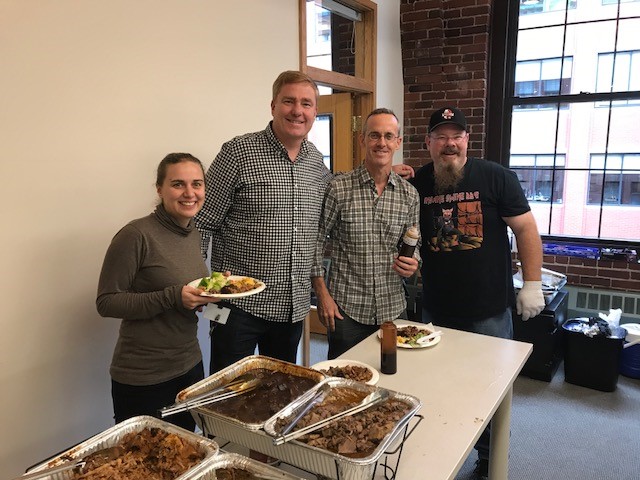 Since 2008, CMB has raised over $100,000 for Light the Night!
Funds raised from Light the Night directly support the Leukemia and Lymphoma Society (LLS)—the largest voluntary health organization dedicated to funding research, finding cures and ensuring access to treatments for blood cancer patients. Many of the advances made in blood cancer research can be used to treat other types of cancer—broadening the impact of our fundraising efforts.
I learned the power of teamwork through my battle with cancer. My family, friends, colleagues, doctors, nurses, and many others stepped up to join the fight with me.
In a couple of weeks, our team will show up for the eleventh time and stand next to survivors, patients, advocates, and family and friends, at the annual Light the Night Walk in downtown Boston. It's a powerful night of hope, love, and support as thousands of lanterns literally light the night sky as a single unit—a team.
Catherine is CMB's Director of Finance and a two-time cancer survivor who will be stepping up with her CMB teammates at Light the Night on October 17.