It's about a 4 min. read.
Two months ago, we closed our digs at Two Oliver Street in downtown Boston–and welcomed new office mates (including some furry and feathered) into our workdays. We're proud to say that our culture is stronger than ever and in the spirit of openness, we're sharing creative ways to building and maintaining our bonds:
"Very productive day for Nala" – Mike Helms, Research Manager
Stay Social
One secret to CMB's strong and enduring culture? It's not all work and no play. CMB's Social Committee does a fantastic job planning and executing events. With in-office banana bread competitions and pub trivia off the table, our Social Committee has been working hard to think of fun virtual events. They're teaming up with our Board Game Club to host an online game night. We can't wait!
Outside of events, we are using social media to stay connected with one another and our communities through our #SpringAtCMB campaign. Our need for positive emotions and social connection are greater than ever. Seeing spring through the eyes of our teammates has spread joy within and beyond our CMB community.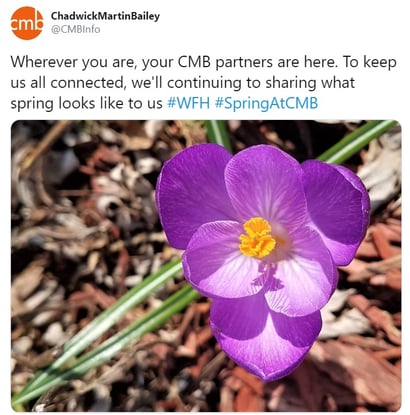 Appreciate Each Other
It's well understood that employee recognition enhances engagement, creating a culture of commitment and passion. Now that we aren't seeing each other in-person to high-five and elbow bump to celebrate a success, we are fortunate to have a custom engagement solution crafted for us by ITA Group. Our Be The Reason platform allows us to recognize colleagues and share positive feedback across all the ITA Family of Companies by recognizing behavior that reflects our core values.
CMB's culture continues to thrive even with the close of our offices. We remain as committed as ever to helping the world's leading brands engage, innovate, and grow and are challenging ourselves to do the same. In fact, some of our long-standing remote CMBers have even commented they feel even closer to the CMB culture now that we are all adopting a remote work lifestyle.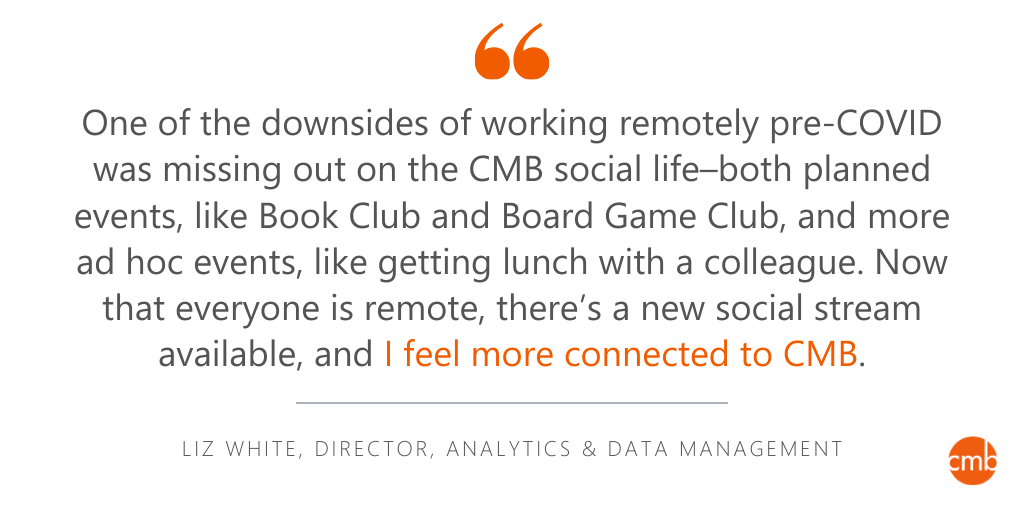 Stimulate Conversations
The CMB Virtual Lunchroom simulates our lively in-office kitchen and allows us to still eat together and catch up daily via video conference. Our weekly "Fun Fridays" are now virtual too! Hanging out and having a drink with colleagues is a great way to unwind together at the end of the week.
The Virtual Break Room is in full swing– and it's a blast! This Microsoft Teams-based forum provides opportunity for CMBers to stay in touch through posts, stories, images and videos.  This is our online water cooler where we can gather to check in with each other and share a laugh or a smile, share a great podcast, and get a movie or book recommendation.  In short, to nurture those fun moments that help make us a supportive and cohesive team. It has something for everyone including topics like Too Cute (wow, so, so many cute pets!), All The Memes, Foodies, and Some Good News.
We are fortunate enough to have many great personal interest clubs at CMB. Documentary Club and Book Club are still going strong and meeting via online platforms. We've recently discussed The Tiger King, Chasing Happiness, and Babies! Our next book club is meeting to discuss Such a Fun Age by Kiley Reid.
Through all of this, we gained the confidence we needed to keep our culture strong. We have even made strides in better integrating our remote workforce into our events and social gatherings. Because of our efforts to keep our culture alive, CMB feels more connected to each other than ever. Our personal interest clubs have grown in number, and we're committed to keep this momentum going. Who knows, maybe virtual game nights will become a new tradition! We at CMB hope that you and yours are staying safe, healthy, and connected during this time.