It's about a 8 min. read.
In this very special spotlight, we talk with strategic thinker and empathetic leader: Judy Melanson. Judy has worked with some of the world's leading brands including Hilton Worldwide, Disney, Avis Budget Group, Scientific Games and Caesars Entertainment on some of their biggest and most innovative challenges. After 28 years at CMB, Judy is heading into retirement, with an amazing support group of her family, friends, colleagues, clients, and the clients who've become friends and family.
1. How did you get started in your career?
I started my career as a tour guide in London 1984. The company (that's since gone out of business) was very disorganized, and I spent most of those six months saying, "I'm sorry; I'm sorry you're on your honeymoon and you have a twin bed; I'm sorry that you're here but your luggage is in Hong Kong, etc." After that, I sold timeshares in Newport, RI, and moved on to selling conference event space for a beautiful resort location on Cape Cod. I learned something from each experience, but most importantly I realized I wanted to get my M.B.A. and forge a new path.
These early jobs gave me an intimate look at the customer experience that I needed when I later become the lead of CMB's Travel & Hospitality practice. I've worked with leading tour companies, leading timeshare companies, leading hotel companies, and I think I'm one of the few market researchers who have been in their shoes. I understood their challenges, because I've sat at the desk and listened to a traveler's complaints. I have so much respect and appreciation for the brands who can do an excellent job, and the teams they've assembled.
2. What led you to CMB?
The late John Martin, co-founder of CMB, is the reason I started and the part of the reason I stayed at CMB. I met him while taking his market research class at Babson. John had so many stories about the new and exciting challenges he was addressing. I was transfixed by how market research could influence business strategy, and the range of clients he worked with. I basically begged him to hire me.
I've laughed (daily), I've cried (once or twice), but I've never had a boring day at CMB. The types of projects, and the challenges we tackle executing those projects, have kept me very happy and satisfied in my 28 years at CMB.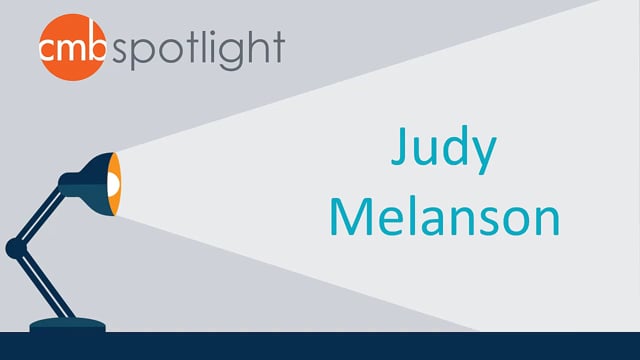 3. Tell us more about John's influence in your career, and mentorship.
The list is long for everyone I'd love the chance to thank in my career, but John Martin was a strong influence. I learned so much from him, especially in the art of client engagement and interaction. He helped me figure out how to execute research and to manage the wide range of responsibilities expected of me.
Our clients at Hilton used to refer to John as the "mad scientist." He'd show up to a meeting in the same blue blazer, disheveled hair, and frenzied energy, which would be dormant while he listened to their pain points and questions. But at some point, he'd find a white board, which was his instrument of choice. During the rest of the meeting, he'd channel his energy into these extremely complex challenges we were discussing, and suddenly we'd see clear action items that structured our research and addressed our client's key business drivers. He was a master of translating research into the language of business.
It's funny because I saw John's "white board strategy" in action during a meeting with our colleagues recently. Brant Cruz used it so effortlessly to capture what was on the team's mind, validate everyone's voices at the table, and push the group further.
4. At CMB, we like to think ahead. What do you think your clients should be addressing for their longevity? How should they/we be evolving?
I think it's really exciting for travel and hospitality brands to leverage the insurmountable amount of data at our fingertips, and to give that data purpose by creating more relevant, personalized experiences for its users. Netflix and Amazon provide such a nice standard for this. Both these leading brands leverage the products or content you, and those like you, consume, to serve recommendations tailored to your habits, interests, and needs. The curation of products and services—not just content—is so applicable to brands outside of the entertainment and ecommerce industries. Recommendation engines are hard to execute, but it's possible. And the rewards could be great, leading future travelers to better experiences and stronger loyalty to your brand.
5. What do the researchers of tomorrow need for their success?
I think 2020 has highlighted this for many, but I'd say empathy. It's so important in insights no matter the tool or technique you're using. As researchers, we're required to understand people as comprehensively and holistically as possible so that we can help brands make decisions. It's a practice. Even though I think I'm pretty good at it, I'm always struggling to be better. The reality is that I'm a white woman of a certain age; the experiences and learning I've had are due to the way world meets me when I come into a room. Researchers must work hard to understand who an individual is, the experiences they've had, how that affects their decision-making, and to advocate that back to our clients and their stakeholders.
Some of the work that we've done, under the leadership of Erica Carranza, has helped at understanding identity. Our BrandFxSM approaches are super helpful in humanizing insights for our clients, and telling their stories, so that they can be truly customer-centric. The more we can integrate the voices of our respondents to our clients, the more effective our research is.
6. What's the power of developing not good but great client relationships?
We're so fortunate at CMB to have incredibly strong client relationships with leading brands (some even before my time at CMB!), who call us back time and time again for our best-in-class analytics, qualitative, storytelling, graphic design, etc. Sometimes that relationship is with the brand—because of how intimately we know their business—working with a variety of team members. Other times it's with a person—because of how we support them—wherever their career takes them.
Part of the magic is the way we work with people, as people, supporting each other throughout the happy and challenging moments. We act as trusted advisors, with the strong objective of making our clients succeed. We all build those relationships in a slightly different way that's authentic and honest. CMB gives us the freedom to find the right team, the right clients, and the rights accounts that are a match for us. Because we have a vested interest in the people we work with, as well as the business and industry in which they operate, our commitment as a team doesn't wane.
One of the pleasures of working at CMB for so long is the relationship I've been able to develop. I'm so lucky to consider many of my clients, friends. The fact that I can enjoy my work and participate in the life of the people you're working with has made my career a pleasure.
7. What does "The CMB Difference" mean to you?
When I first joined CMB, there were only about 12 of us, and we had to be flexible, proactive, and work closely together to get results. I feel closely connected to the growth that CMB has seen—growing from a small, start-up to a Top 50 market research firm of about 100 employees—and feel very proud of that participation.
We're an extremely collegial organization. If I ask for advice or help from anyone in the organization, I know within minutes support will come. We hold each other up to a high standard, and work hard for each other because we like and respect one another. It's a joy to work together. We take advantage of every opportunity to congratulate one another.
8. Talk a little bit about the CMB culture.
The essence of CMB comes down to couple of things: collaboration, excellent work, and quirkiness. It's important to maintain our excellent standard of work…but we got to continue having fun. I hope that our quirkiness, our unique personalities, and our ability to have fun always stays in our legacy.
My favorite memories at CMB are when we're able to gather together, whether it's to celebrate our accomplishments at a company update, holiday celebration, or to uplift our community like our Light the Night fundraising. Thanksgiving is a perfect example. For the last 15 years, our management team has cooked and served the staff in our office to express thanks for everyone's hard work over the year. It's almost serendipitous that I'm retiring after this year's (virtual) Thanksgiving celebration.
9. What's next for you, Judy?
The best part of this next adventure is that I have no plans. I've been working since I was 15 years old. I'm going to take three months just to rest and reflect because I deserve it.
But I do want to discover where I can best add value in this next phase of my life. To ideate for the future, I bought a book on design thinking during life transitions. It's super interesting to bring some of the principles we use in our research and apply it to me. The prompts are helping me to reflect on my goals, values, and identify where there may be gaps.
I always imagined having a set plan ready when I announced my retirement—what I would be doing, or where I would be going—but I realized that I couldn't close this chapter of my life and create that plan at the same time. My days will probably be filled with painting, working in the greenhouse, and/or traveling (as COVID-19 permits).
Some of this exploration started when my youngest daughter went to college. I decided to try a new hobby and signed up for some drawing and painting classes. I've learned so much as a result of it. Painting is storytelling. You have to decide what the narrative is, what to accentuate or intensify, and what you want your viewer to experience. I'm excited to see where my story takes me next.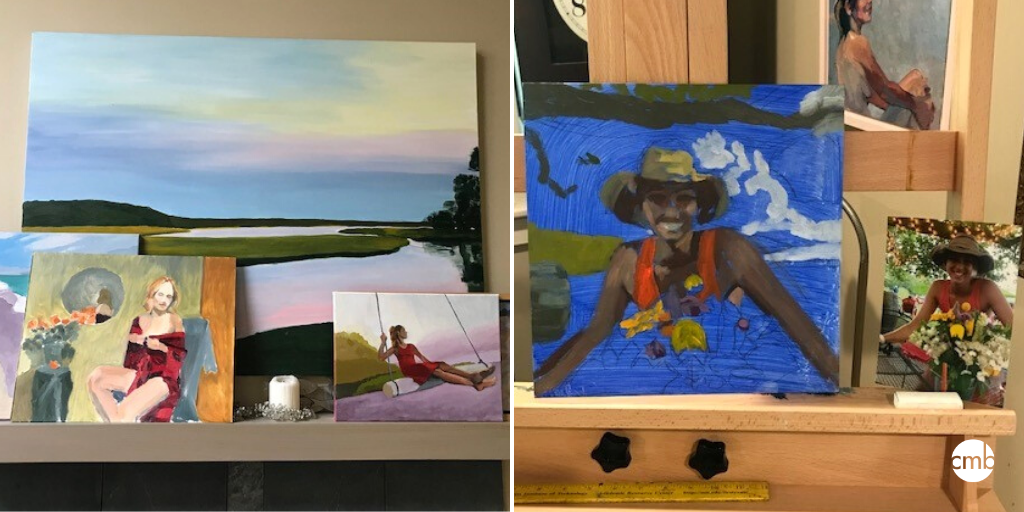 ---

Please join us in thanking Judy for her numerous contributions and incredible impact over her career, and congratulating her on her next step. Connect with Judy on LinkedIn here.